Our member schools provide a wide range of educational options for families to choose from including primary, elementary, secondary, Montessori, International Baccalaureate, traditional, progressive, faith-based, day and boarding schools, single-gender and co-educational schools and schools for students who would benefit from Individual Education Programs (IEP).
Find out more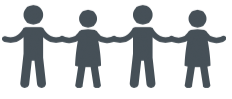 Each independent school is distinct. Finding the right fit depends on your wish list. Attending an open house is a great way to explore educational options and find the right school for your child. Visit our member school's websites to find out more and plan your visit based on the Open House dates and schedules.
OIS member schools

The admissions process can be overwhelming for any family. Understanding the range of choices and each school's expectations are imperative when it comes to gaining admission to your school of choice.
Find out more
Find the Right School for your child
Education is not a destination, it's a journey.
The journey of a lifetime depending on the path travelled. Choosing the right path for your child is key.
A Great School is Waiting for You
Statistics for Private schools (K-12) in Canada
Number of Private Schools (K-12) in Canada*
Number of Private Schools (K-12) located in Ontario*
Number of students attending an Oakville Independent School
The Oakville Independent Schools is one of Oakville's largest employers and jointly employs more than 700 people.
*From the Fraser Institute June 2016 report: A Diverse Landscape: Independent Schools in Canada
Now is the time to consider an independent school
Link Oakville Independent Schools to your website!
Attention realtors, relocation experts and education consultants, provide your potential and current clients with valuable information and resources regarding the independent school options available in Oakville.
Click here to get the OIS graphic and link to add to your website.
Frequently Asked Questions
As you navigate through our website you will find important and useful information outlining the highlights and benefits of an independent school education. We have provided direct links to the websites of member schools, and invite you to explore the exceptional educational choices available to your child. Still have questions? Check out our FAQ page, or contact the schools that interest you for more information.
Don't Be Shy
Drop us a line anytime and we'll get in touch